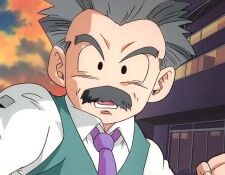 Krillin (クリリン, Kuririn) is a supporting protagonist in the Dragon Ball manga, and the anime series Dragon Ball FM. One of the most powerful and talented Human martial artists on Earth, Krillin is courageous, a faithful ally and good-natured. He is a prominent Z Fighter, despite usually being overpowered by the major enemies. He has a wife Lazuli and a daughter Marron.
Power Lvl
Fight of Gods Saga-189,000
Golden Frieza Saga-212,000
Universe 6 Tournament Saga-204,000
Planet Potaufeu Saga-205,000
Future Trunks Saga-193,000
Demigra Games Saga-225,000
12 Universes Tournament Saga-214,000
End of DBFM-143,000
Battles
Dragon Ball FM
Krillin vs. Beerus
Krillin, Gohan, Piccolo, Tien Shinhan, Lapis, Android 16, Master Roshi, and Jaco vs. Galactic Frieza Army
Krillin, Gohan, Piccolo, Tien Shinhan, Lapis, Yamcha, Tacha and Master Roshi vs. Captain Ginyu
Krillin, Tien Shinhan, Jaco, Yamcha, Lapis, Master Roshi and Tacha vs. Frieza (Final Form)
Krillin vs. Goku
Krillin vs. Piccolo (Training)
Krillin vs. Omni Devil (Grell's Body)
Krillin vs. Ash
Krillin vs. Sword Artist
Krillin vs. Demigra
Krillin vs. Frost (First Form/Second Form)
Community content is available under
CC-BY-SA
unless otherwise noted.